Nick Saban wanted to make one thing clear at SEC Media Days
this week — there's no quarterback controversy at Alabama.
Saban reiterated a point he's made throughout the offseason
often on Wednesday inside the Wynfrey Hotel in Hoover, but did
answer one question from SEC Network's Dari Nowkhah on
five-star true freshman Tua Tagovailoa's playing time this season.
After interrupting a reporter's question about Tua vs. Jalen
Hurts a few minutes prior, Saban finally let others know his
plan for Tagovailoa's development in his first campaign.
"Look, we have totally faith, trust and confidence in the
quarterbacks that we have, but we want to develop every player
on our team," Saban said. "And Tua has a lot of potential and
we want to continue to develop him. If we feel like he can play
winning football, I think it's important for us to allow him to
do that so that if he gets in a situation where he needs to
play, he's going to be able to play winning football. And
part of that development is the need to play in games."
Tagovailoa arrived as an early enrollee with much fanfare, the
nation's top-ranked dual-threat passer in the
2017 class according to the 247Sports Composite. And after
a standout performance in Alabama's spring game, it's clear the
talented left-hander is perhaps more game-ready than many
expected as a freshman.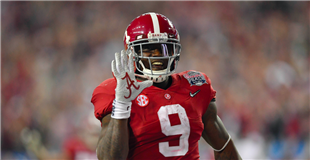 Sports Illustrated ranks best players in
college football Start SlideShow
But he's playing behind the SEC's reigning offensive player of
the year and for now, Saban says he's the clear No. 2 behind
Hurts.