What's next for the Longhorns? Make sure you're in the
loop by signing up for our FREE Texas
newsletter!
Another domino has fallen in the Houston-area.
This time around, the Longhorns picked up a commitment from
four-star Houston Lamar wide receiver Al'vonte Woodard.
"Texas is a great school," Woodard said. "I really like what
the new staff is doing with the program. I talked to a lot of
the players about this staff versus the old staff, and they
really like this new staff."
Woodard picked Texas over finalists LSU, Ohio State, Ole Miss
and Texas A&M. However, Texas was considered the heavy
favorite for the majority of his recruiting process.
Woodard made a number of unofficial visits this offseason and
built a great relationship with head coach Tom Herman and
wide receivers coach Drew
Mehringer. Overall, the staff did a tremendous job
recruiting him.
But something that really caught Woodard's attention was the
shift in UT's offensive philosophy under Herman.
"Last year, they ran and pounded the ball," Woodard said. "But
as you saw this spring, they really aired it out. They threw
the ball pretty much the whole spring game. They like me at
outside receiver, and I think I can be a great fit."
Woodard is arguably the best deep ball wide receiver in the
state this cycle. He has a great combination of size and speed
and brings back memories of 2016 Texas signee Damion
Miller.
However, Woodard isn't just one-dimensional. He has spent the
entire offseason working on his craft and is quickly developing
into a complete wide receiver that could compete for early
playing time in Austin.
Woodard is set to make an unofficial visit to Texas on July 21
for the 'Stars at Night' recruiting event and is sure to help
the Longhorns recruit.
At 6-foot-1, 193 pounds, Woodard is ranked as the No. 14 wide
receiver and No. 77 overall recruit in the country, according
to 247Sports Composite.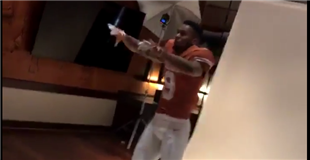 LOOK: Scenes from Texas' in-house photo
shootStart SlideShow
Want free VIP access to Horns247? Click here
and take advantage of this offer!