Penn State's receiver corps will remain big, fast and physical
with what the Nittany Lions are signing in 2018.
Top247 receiver Daniel
George the latest to join the fold.
Pair the four-star George up with five-star Justin
Shorter – the long-time Nittany Lion pledge and
247Sports top-ranked receiver in the country – and James
Franklin, Josh Gattis
and company have as formidable a duo as any program will sign
at the position this cycle.
When the 6-foot-1 1/2, 205-pound George puts it together, he
has the traits to be as good as anyone.
In choosing to play for Penn State over Maryland, North
Carolina and Virginia Tech among others, George will arrive in
Happy Valley with good speed but it's his tremendous quickness
that makes him so intriguing. He ran a 4.61 laser-timed 40-yard
dash to go along with a 3.92 shuttle which is among America's
best. An explosive athlete, George posted a 34-9 inch vertical.
That athleticism flashes on film where as a junior at Oxon Hill
(Md.) High, George caught 45 passes for 873 yards and scored 20
total touchdowns on the season. He's very dangerous after the
catch with his size, balance, ability to make people miss and
speed to take it the distance. On film George shows he can make
the highlight reel play and more importantly catch, we just
need to see a tad bit more consistency if you're wondering why
we don't have him ranked as lofty as Shorter.
And what's left to be said about Shorter, the best downfield
receiver in this class. He's 6-foot-4, 213-pounds and a
fantastic route runner with 4.5 speed. He's also a dominant
player in the red zone.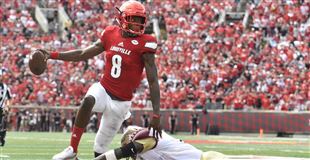 The Sporting News picks the top players in
college footballStart SlideShow
Shorter and George are two jewels in a Penn State class that
247Sports ranks No. 3 nationally. The
Nittany Lions skill players on offense in 2017 will be as good
as any other program in America and George, Shorter, running
back Ricky Slade
and company look to keep it going when their turn comes.